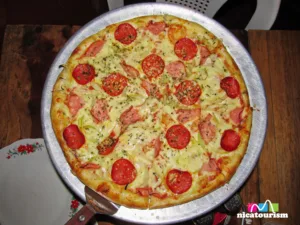 We had an excellent surprise when we ate at the Pizzería Buon Appetito in Moyogalpa, Ometepe.  In my humble opinion, it's the best pizza option on the Island of Ometepe.  Francisco Obando, owner, and chef has really learned his stuff.  He prepares the dough, sauce, and ingredients fresh as you watch.  Very clean, has great service, and has reasonable prices.  We had this 5 ingredient pizza and two drinks for a total of C$290 ($12.60).
On a scale of 1 to 10, I give it an 8.
Tuvimos una sorpresa muy agradable cuando comimos en la Pizzería Buon Appetito en Moyogalpa, Ometepe.  En mi humilde opinión, es la mejor pizza en la Isla de Ometepe.  El dueño y chef, Francisco Obando, tiene mucho talento.  Prepara la masa, salsa e ingredientes mientras estés mirando.  Muy limpio, buen servicio y precios razonables.  Esta pizza e 5 ingredientes más dos bebidas nos costó C$290 ($12.60).
De 1 a 10, le doy un 8.
Pizzería Buon Appetito
Del Puerto, 3 1/2 c. al Este
Moyogalpa
Isla de Ometepe
pizzabuonappetito@gmail.com
8764-6646; 8334-2466